So the new year 2011 came upon us and yet no new post on my beloved blog until today! Well, I have been finishing up work from the end of last year (yes there are a few dresses that did not make it to the post office yet) and just basically tried to find spirited ideas for the new one. There are indeed so many things that I have to and would love to work on and I just basically have to figure out which one to do first. So prioritizing, that is what I am doing, sorting through a vast array of things to do.

I am going to be doing some web design, besides clothing design, yes. There will be a lot of new fashion design too. For example, I have a Betty Boop print in front of me that is so amazing! It's Betty as a hippie girl on a brightly colored tie dye... Carl stepped by the studio today and saw it and said: "That would make a great bag!" I have to say, yes, it would! And I think I will follow his intuition and make a bag out of it, besides the dress that I already have in mind... it'll be amazing to wear this Summer, with lots of glittery jewelry and fringes... is this going to be another Summer of Love?!

O.K. so as I do not have anything to 'show' you just yet, I wanted to at least fill you in on this new Idil Vice portrait by Carl Posey. I love it! It's my new facebook profile picture too... BTW, did you see The Social Network? Amazing! So driven! I want to see it again and again!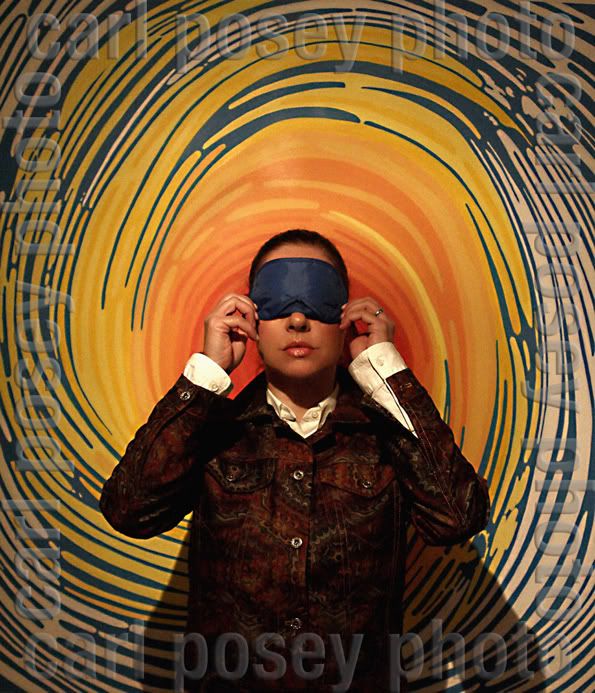 Carl is working on a fast forward photo slide show/film which is putting several version of this image in motion so to speak and yes, it is an amazing piece of work... will be posted shortly, O.K.?

I am wearing a vanilla cream colored button down shirt from Uniqlo under the psychedelic Jim Morrison Denim Jacket from my own FashionRocks collection. Plus I am holding over my eyes my signature Swissair eye mask hairband in royal blue.