In New York City one has plenty of opportunity to wonder where people are coming from, yeah right, most of them are of course just tourists wandering around the stores on Broadway taking advantage of the weak currency of that Dollar nowadays, well great, we can surely use that kind of influx here in the Big Apple. And NY is the biggest melting pot of cultures.

But I am talking about another stranger here. It's the souls you meet that seem like they are not part of the big movement, even though they are probably your neighbors, maybe have been living here longer than you, yet they are somehow left behind, at least that is what they seem to be, maybe they are just ahead of the rest. But these characters whom you encounter once in a while are standing out of the crowd because they are not like everybody else, there are plenty of them, thanks goodness!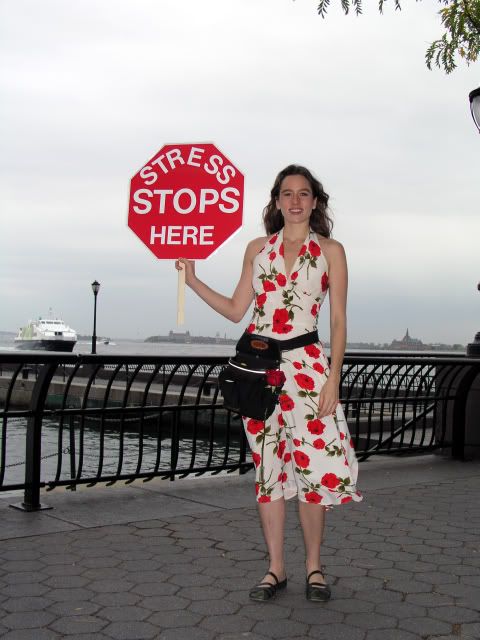 The other day we were taking a bike ride in Battery Park, taking a few breaths of fresh air on a bench, discussing the days developments and this young woman in a red rose printed dress walks by - and made us smile - carrying a sign that read: "Stress Stops Here". She's just spreading a good vibe she says... reminding the people to take a deep breath and relax.

How cool is that? Heh? Only in NYC? Maybe not, but definitely in NYC.