For a fashion designer it is already 2011. Yes it can be weird to work on designs to be worn in a year from now. You're always hushed to the next thing before you can really enjoy that moment. As an independent I can control the design schedule a bit more, but let's be honest, you've got to think ahead and sometimes that means to just really be in the now. Because people who do not worry about fashion (they could be your customer), they have to catch up first.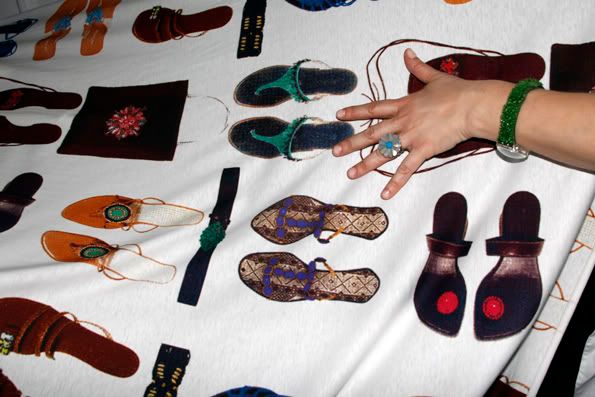 As much as it is shameful to be catching up on an ongoing trend, it can be frustrating to be ahead all the time. And sometimes I just wanna make a piece of clothing for right now! That could mean I've got to take a step back. "What is she talking about? It's confusing!" you may say. So let me show you a situation like this on an example.


It just happened yesterday when I was on my usual sneak peek tour through the garment district. Those of you who have been following some of my work, know about the cool
Sunglasses photo printed fabric
. Well, when I chose it for a dress 2 years ago, there was another print from the same manufacturer, the Sandals photo print.
I preferred the Sunglasses one over the Sandals one then
and never looked back, but on my stroll yesterday this print looked like
now
to me, I wanted to make something with it to wear this Summer 2010. And that is what I mean when I say:
"Sometimes I have to take a step back to be ahead
"
, which could be what I am feeling
right
now
.
It's intuition I believe. Anyway, now that I have picked the fabric, I've got to get inspired to come up with the
type
of garment it is going to be and that - you bet - is a whole another story! It may inspire
you
or you may have a suggestion... please feel free to comment on it :)