Yes, I said I was real busy lately and had no time to write... je m'excuse! Nowadays in this economy it's no joke and if one wants to survive he or she better invests a damn large amount of time and sweat into the business. This blog is part of that business, but I admit: it's not priority. I just really love to write and talk about my business so I do want to continue posting when the time allows...

So, right now 2 of my main Bernina sewing machines are in for a tune up (as always in Spring, but one of them has an issue most likely bigger than a regular service can take care of, so I am just hoping my mechanic can take care of it sooner rather than later :/ and weirdly still today, after all these years, I am shocked to see empty tables when I walk by the sewing work space. I am simply not complete without these incredible tools. Well, hopefully there won't be any pressing fashion matters before Memorial Day... But, it's not all bad, because I do have some time to blog now!

I wanted to show you some of the images from our new Spring photo shoot. You'll see, my hippie inspiration continues... Jimi Hendrix on a fringed kaftan and a super hippie Madonna on a woven jacket! O.K. here we go: a couple new pictures from our Spring campaign: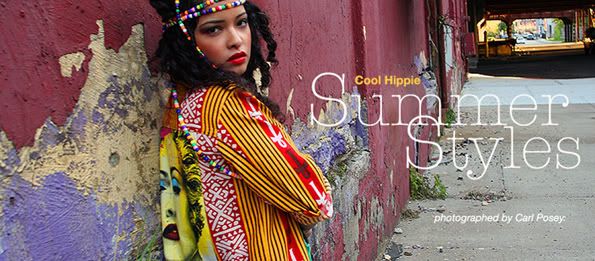 NYC model Jessica Calle in the Madonna (Celebration) Woven Jacket, photo by Carl Posey.
Jess with guitar rockin' out in our purple Jimi Hendrix Kaftan Dress, photo Carl Posey.

So all you really have to do is slip on one of these,
turn on the music
and relax.
Enjoy Summer time!
If you are more into skirts, you'll digg our One-Of-A-Kind pleated minis or our fabulous floor length hippie patch work skirts... their all in our
New Arrivals
category.
O.K. guys and girls, stay tuned for more
hippie treats
this Season!
And "pssst", I 'm not really supposed to tell you yet, but in one of the next posts, I'll put the spot light on
Zimmermann & de Perrot
, a Swiss theater troupe which is really good. They had their US premier here in NYC earlier this month. Because Zimi (Martin Zimmermann) and Dimi (Dimitri de Perrot) are both friends and we were roommates in Zürich more than 20 years ago, I was invited. So you'll get the inside scoop and you'll see some images (with ballet dancer
Mikhail Baryshnikov
) from their NYC photo shoot with photographer
Carl Posey
.