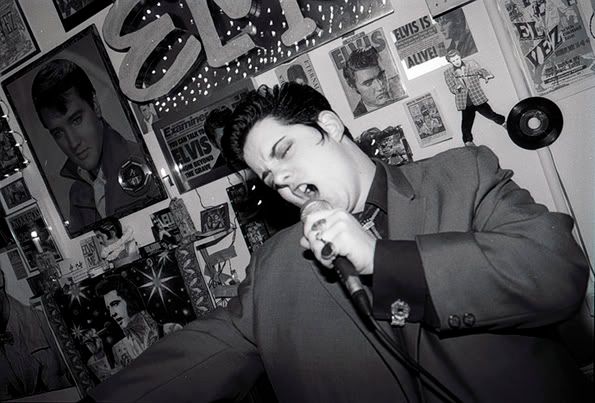 ...elvis herselvis (leigh crow)
performing in san francisco, photos by carl posey...



At first I though it was a joke when
Carl
told me about "
Elvis Herselvis
", a supposed female Elvis impersonator from San Francisco. "Yeah O.K., how good can she be?", she sure ain't gonna be toppling over
El Vez
(one of my favorite Elvis impersonators, a Mexican American, who's show I watch here in NY every year around X-mas time) or - mind you - Elvis
himslevis
(a.k.a. Elvis Aaron Presley)
, well that would be an impossible task, knowing that he is THE undisputed King of Rock 'N' Roll.
Once I took a good look, I realized that I had yet more Elvis content for my blog. It's Elvis b'day week and I don't mind to "elvisoverdose".
...elvis herselvis portrait by carl posey...



The inimitable Crow still performs as Elvis Herselvis on occasion as well sings, acts and performs regularly; including performing with the all female rockabilly band called
The Mighty Slim Pickins
. She says: "Straight men are very intimidated by a woman impersonating Elvis. It is one of the last bastions of masculinity - the right to "do" Elvis. I personally think he was very queeny, in the 1950's he wore make-up and pink, on stage when that was unheard of behaviour for a straight man."
Elvis Herselvis identifies as a "Female Elvis Impersonator" and "Drag King" and has been evoking the King of
Rock and Roll
for several years. "Elvis Herselvis & the Straight White Males" were one of the most original and innovative Elvis impersonation acts, recalling Elvis Presley with her sensuous vibrato, while wiping the sweat from her brow with the panties of devoted fans. The performer even "satirizes Elvis impersonators and includes in her act a discussion of Elvis's drug problem and sexual proclivities." Crow's uncanny portrayal has made her a popular entertainer in the alternative cabaret circuit in America. In 1993, she also toured Australia.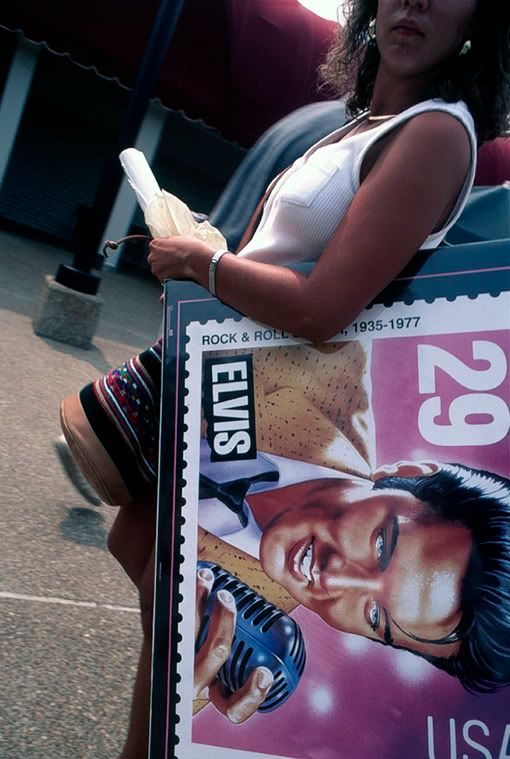 ...photography by carl posey...



And so we keep loving, celebrating and impersonating Elvis... even if we are female.