I love discovering things and the internet is a fabulous place to do so!

I am sure you are familiar with Etsy treasuries, right? The collection of items within a titled theme. My items are frequently added to treasuries (thanks a lot!), I even featured some here on the blog in the past. The newest treasury is called Love Kills and my Sex Pistols skirt is featured. It's a great collection period, but one item stood out immediately: The Sid and Nancy crochet puppets - Dope! Including studded belt and fishnet stockings! 95 bucks and they both (plus the knife) are yours to keep...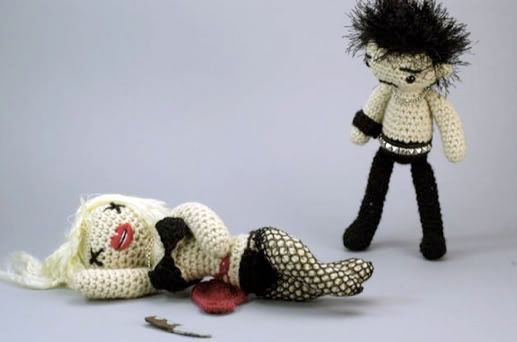 So that very crafty crochet lady from the slightly darker side goes by the name of Shove and her Etsy shop is called Croshame.

Gotta love the craft but I also admire the messages she's communicating. For example what about this burger?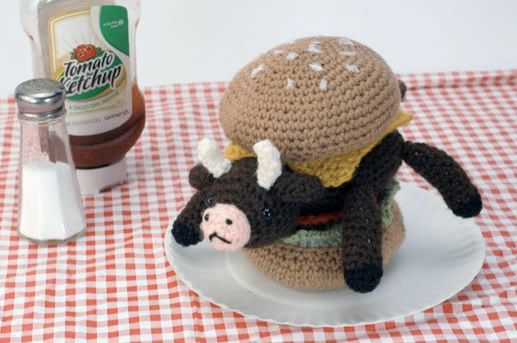 ...labeled 'very rare indeed', this cow burger rocks!



For 70 bucks you get the bun, the cow, the lettuce, the tomato and cheese! Go figure.
piggy

on

the blanket
. I'd love to
have this place setting for everyone of my guests
when they come to my house for dinner.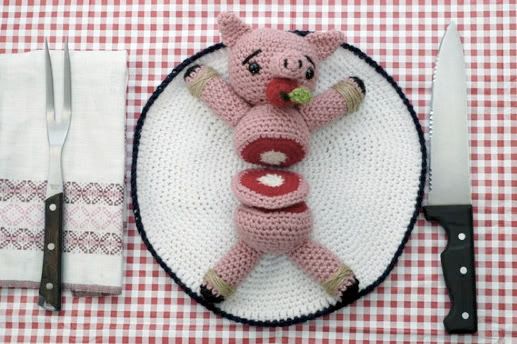 Shove keeps
engaging us
with a
macabre lamb chop
and, and, and... I hope you enjoy! And for those that - like me - can't get enough, visit Shove's blog
Doomed To Live
, which she manages with her partner in crime Chuck. You'll see behind the scenes of 2 creatives.
I would have loved to be invited
to their
Ginger X-Mas Bash
for example!