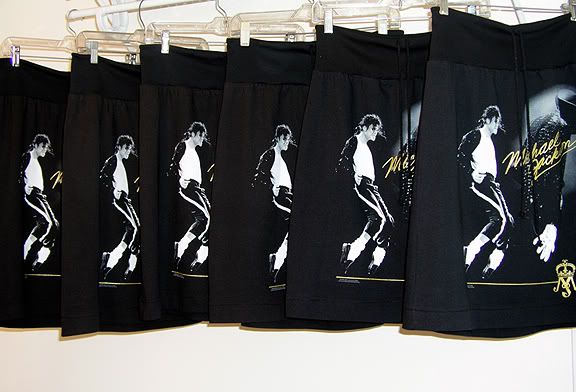 Just like Elvis Presley, Michael Jackson is making a lot of money even after his death. Some predict the King Of Pop's estate may be bigger than the King Of Rock 'N' Roll's after all.

100 million dollars for a movie deal and various merchandise contracts - to which I have been contributing a small part too - is what Michael Jackson made up to date, still days shy of his passing 2 months ago. Executors expect another 100 million to roll in by the end of this year!

No doubt. I believe it! I haven't stopped producing the Michael Jackson Skirt, since I made the first sample a few of weeks ago...





Our production facilities on 38th Street in Manhattan's Garment District have literally been invaded by the Michael Jackson Skirts! Michael Jackson Skirts everywhere you look!

Check out a few of my past posts about Elvis and Michael:

Inspirational trip to Elvis Presley's Graceland!
Fashion Rocks inspires: Blythe in a Elvis dress!
I want more Michael Jackson!
6/25/09 Michael Jackson