Just so you know: What happens in Vegas does not stay in Vegas. Never ha, ha! Of course not, because people talk, people take pictures and before you know it, the whole wide world knows what you did in that town!

But whatever. You are in for a treat! Let me explain. Most people dream of a wedding in Vegas. Some people are lucky enough to get married in Vegas and some just get to go along! Yessssha! - I was a chosen one! It sounds like cookies and cream to you, but it was not that easy. I took an assignment.

I was to design and tailor a wedding dress for the bride and the outfit for the groom. I got paid. And I was going to soon go on a really nice ride, but first, I had to do some work!

So what were Mimi's dreams of the dress for that most special day in her life? I flew to Switzerland for a meeting to try and find out. I showed her some ideas and we brainstormed around a bit. The same ritual, except shorter and much more focused went on with the groom, Greg. He pretty much knew what he wanted: something cool, with special details, tailored but easy, maybe with a hat. He mentioned that he wanted to wear his sneakers. O.K.!?

The next step here would be the drawing table and it was. Many sketches later I snatched the O.K. to go ahead. Sourcing the actual material from an idea (mirrored sequence?! White on white embroidered silk?!) can be tricky but in NYC's Garment District you can find pretty much anything. And so I did!

Before I go further, I would like to ask this question: Why is one of the most important parts of fashion, it's process needed to exist and come to life, its production so invisible? Who do you think makes these outrageous looking Haute Couture creations??! The good Samaritans? A Magician? No, you can't just shove all the ingredients into an oven and expect them to come out done... they have to be assembled. Meticulously, patiently, stitch by stitch, with a lot of sweat and sometimes even injuries, like small cuts and strains, etc. but let's not go there!

Let's for once, very unglamorously put a spotlight on how these garments and yes, even pretty wedding gowns are made:



My Bernina Artista sewing machine helps!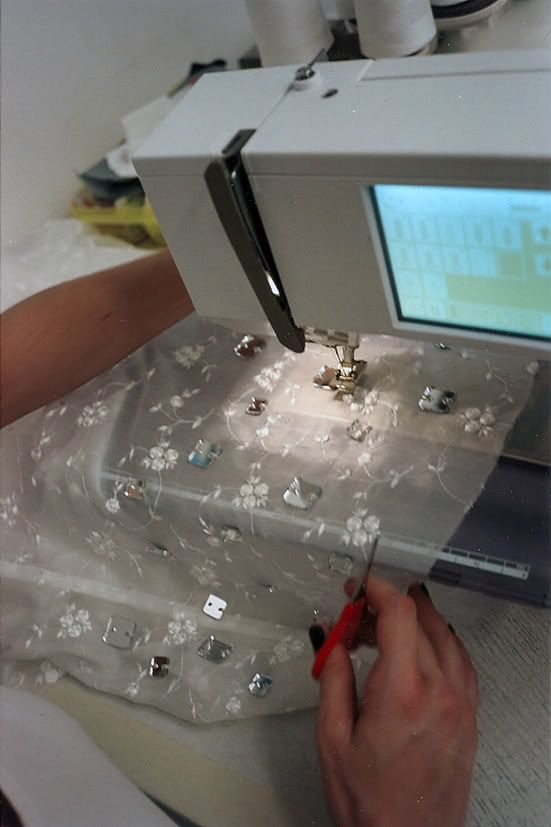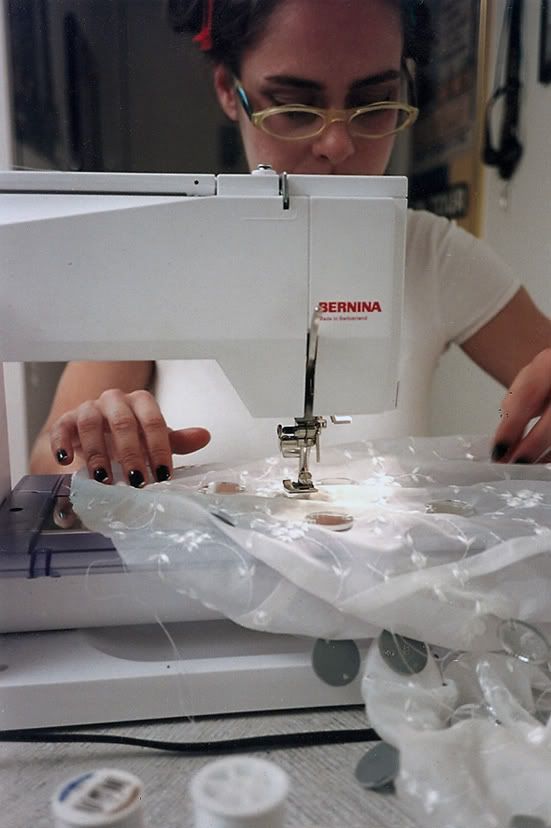 ...all photos by Carl Posey...



O.K. so let this marinate for a while and soon, in one of the very next posts, I will reveal the finished product! And guess what? You are going to go on for the ride with me: A Wedding In Las Vegas! Stay put!