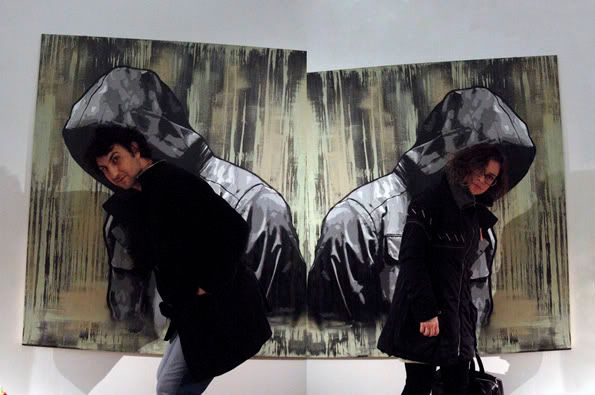 ...photo/digital art by carl posey...


The temperatures have been at their lowest that I recall the past few weeks. Arctic air such as I don't even remember ever having felt in Switzerland, except maybe way high up on the ski slopes in the St. Moritz mountain region, while in downhill motion. Maybe. For these weathers I have my goose down duvet style coat which - let's be honest - is a bit ugly. Warm but ugly. At the least it's not flattering. So instead of wearing
it
out on a chilly Friday night, I will pile on layers, layers and layers instead to make warm my stylish
Marithé François Girbaud
nylon coat which I bought for $2000 a couple of years back.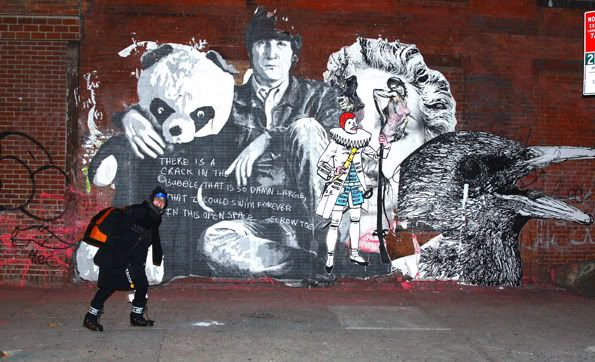 ...idilvice in front of new wall art in the meat packing district, photo by carl posey...



It's not a solution, I know. I guess I will have to invest in a
beautiful
goose down coat next time around, it's the only thing I would consider weatherproof in this type of weather. There is a
warm parka from North Face
for $299 - which I considered - but there are way too many people that choose it and I can't simply ride the same wave as all of them. My eclectic fashion designer heart can't cope with such mass and simply won't allow it. Yeap. That's the kind of stuff I wrangle with.
Your sharp eye has detected it. I am standing in front of the same wall we recently shot some
Madonna fashion
at. Yes. It's the same wall - Madonna is still peeking out from underneath - except that new art has taken over the Madonna Celebrations advertising. And you guessed right, we took some more photos in front of this John Lennon themed piece. It's coming up in one of the next posts, so stay tuned and warm!