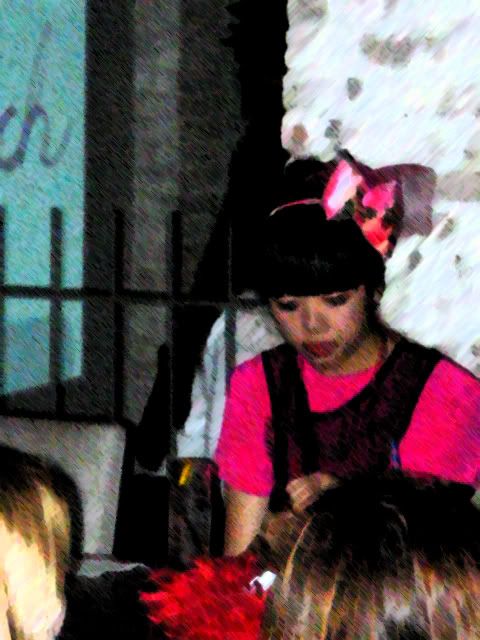 ...susie bubble in ny...
Heyah! I haven't slept tonight, because I was worried - while feeling slightly excited about the prospects of a 20 inch display iMac with a mighty mouse and a brand new keyboard - that I might have to
purchase
a new computer this morning, after I discovered - upon my return from the
Dress Up Soiree
, last night - that my laptop was blank, stuck, gone dark - - - Yikes!
Well, I've managed to get it to work again and so the new Mac will have to wait, oh well! Sigh!
O.K. so what was it like last night? Four words: Susie Bubble in NY.
A bit ahead of time, not fashionably late, I was one of the first to enter the back room at 171 East Broadway and I spoted Jennine Tamm, blogger, entrepreneur, creator of
Independent Fashion Blogger
par excellence, putting the finishing touches to the table center pieces. You'd come to expect a mogul, if you do not already know her quirky, girlie
appearance
from the pictures on her blog
The Coveted
.
...jennine tamm of ifb...



I recognized Susie Bubble instantly, by far the most famous panel member here. She thinks that blogging has reached the peak and says that no one knows what the future brings and it will depend on the bloggers who keep creating content. Why was I surprised to hear her thick British accent??! Well, that was an interesting discovery: we are indeed roaming through blog cyber space daily where we have no personal contact at all and only read about a person, while getting insight into their world. Well, with the fact that I heard her voice and am in the know now of her careful choices of words, I've added another dimension to Susie!
When an attendee pointed out that he never had imagined her to have this casual t-shirt style (he had expectations of the style-savvy blogger) - Susie wore a simple vintage t-shirt dress and flats, although she was sporting a frilly bow tie headband with that - she mentioned, as if excusing herself, that she just came from the shows - which in my book would
call
for dress up - but maybe as an employee of
Dazed & Confused
, shows are just work and require comfort in order to do the
actual
work. Anyway, I was not in a great mood my own self to dress up for this dress up soiree - after all we are heading into the 5th night in a row of
Fashion Week
and I am glad I have a clean outfit! I thought she best would have sticked to her follow up that maybe
her
take on casual is different from
his
.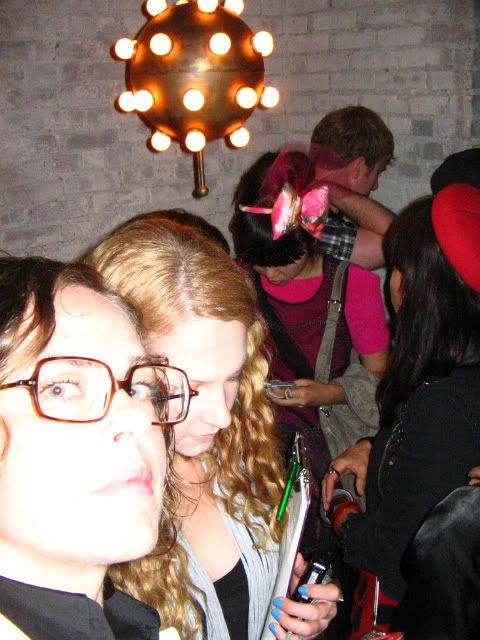 ...everybody wanted a picture with ms. bubble and so did i...
Afterward I had some fun in the bathroom, trying to photograph my outfit... without much luck, I should have asked someone to snap it for me...

... anyway - no hard feelings - but I just felt a bit awkward surrounded by all these bloggers in person (aren't we online networkers?) and thought maybe I like them as bloggers more than in person anyway and so I left Chinatown and the smell of it behind me. I take one advice though, I will stay true to myself and keep creating good content. Thanks for a lovely evening Jennine!