to follow other people
or
jump on running train wagons
, but this time - I am afraid - she is a bit behind :0
My collection "
Fashion Rocks
", which combines rock 'n' roll imagery and music style with couture fashion has mutated beyond t-shirts and bags long ago and now includes the whole gamut of rock 'n' roll icons, not just The Beatles, FYI. I say this with a smirky smile on my lips!
Then again - come on! - this bag is cute enough and why should Rei not get a shot at
The Beatles
? Right? So I am looking forward, impatiently, to see what she'll come up with!
Über fashion reporter and patriarch
Suzy Menkes
from the NY Times, whom I got to meet at the
T party at the Boom Boom Room
during Fashion Week, forecasts a collection of bags and shirts to look more basic than inventive. Well? Again, that doesn't sound like Rei. I wonder.
Now. Only one last thought before I am moving on with my life: the repetitive logo pattern feels a bit Louis Vuitton-ish, n'est çe pas? I just hope no one bites the dust, dear!!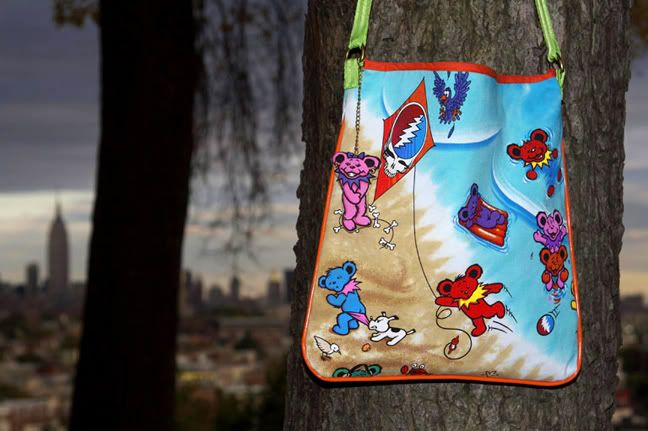 ...grateful dead bag from the idilvicefashionrocks collection 2007...