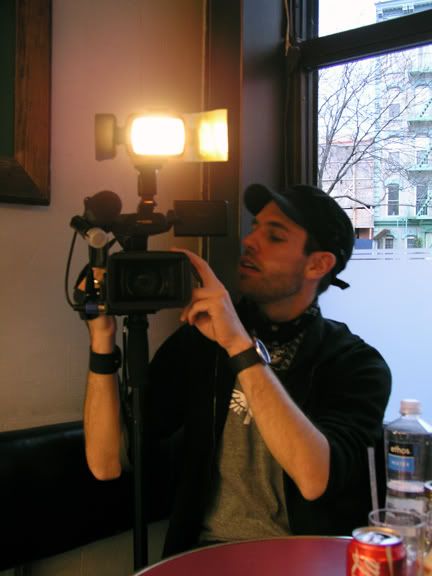 Been busy guys! Glanz und Gloria. It means "Shine and Glory" and it's an entertainment TV show on Swiss National TV which airs every day. Journalist Arthur H. Honegger (photo above and below) just filmed an IdilVice portrait (it shows my sourcing work running around in New York City's garment district visiting all my favorite fabric and trim stores!!) to air...??? Ahem, not sure when, but I will let you know ahead of time so you won't miss it ;-)

Here's a little preview of my outfit...



I just put my Sex Pistols Tunic Dress over my distressed (yeah, they're ripped too!) jeans, wrapped my seersucker cotton scarf around my neck, threw on my soft pink cotton canvas sports coat and in case it would rain (which of course it didn't, all day) I carried my vintage Burberry's coat along.... Ah and yes, you can't see the boots but FYI, and if you care, they are the white Dr. Martens. What do you think? Does this style rock or does it not?