It's no secret, we are reminded every day that it's that time of year again where the x-mas holiday celebrations are upon us and I must say I am feeling cozy and festive these days, especially since they are forecasting a few days of snow storms... Ahhh! There we go - I love Winter! So during times like these I like to come up with some garments and accessories that are making me feel... well, exactly that: cozy and festive!

Have a look at this evening pouch I just made...




It's a One-Of-A-Kind. The screen print depicts a woman in 1920's attire posing with a leopard. I found a very small batch of prints of different 1920's images, so there will be a couple of similar bags, but each and every one will be a different picture and they'll vary in sizes too. The color theme here is black, white, gray, rusty orange (dress), copper (glass beads), pearl gray (glass beads) and antique silver (chain).




It's kind of thought to accent an evening dress with some eclectic sparkle... it really works with any black dress. I even see an elegant pair of pants - wide leg, satin and a blouse or an evening top with some more beading accents perhaps? Crushed velvet in a jacket or coat, might be a good choice... anyhow, I just wanted to get in the mood a bit...




Of course, it's handmade. And it features an array of tiny little details which make this handbag so fabulous!

It's fully lined with a black on black patterned silk charmeuse and I added padding to give it a nice soft thickness. An inner small pocket comes in handy and the cotton crushed velvet backside brings that certain cozy vintage vibe and richness with it's texture. The silver gray and copper glass beaded fringe and a slippery snake chain strap add sparkle and last but certainly not least a smooth riri zipper for quick and easy access!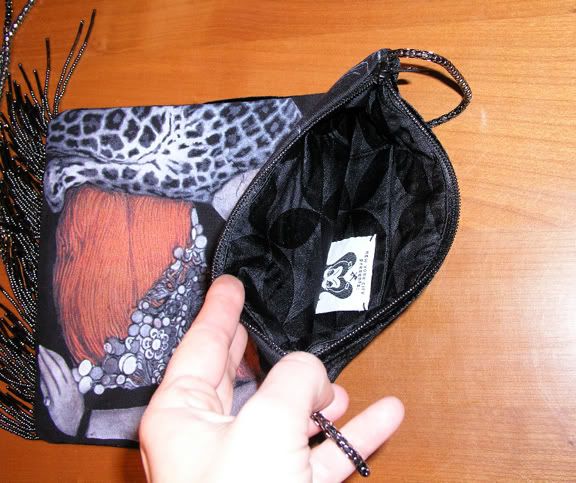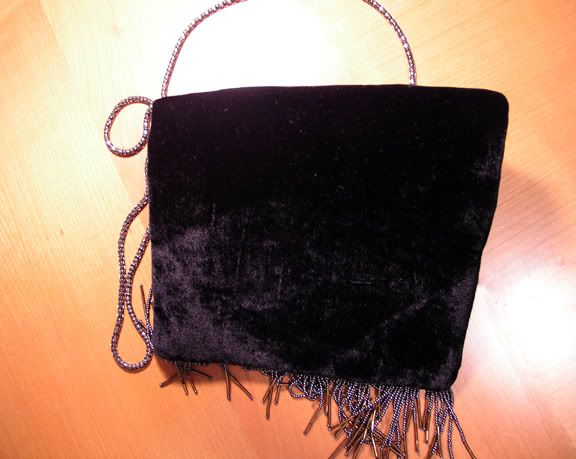 Yes, just simply a great piece to compliment and finish an evening look for years to come! Own this One Of A Kind...