That's right, relax....... You don't have to run around like crazy during the last days of the year. Bake some cookies, enjoy your tree, listen to easy listening, go for walks in the snow or just chill!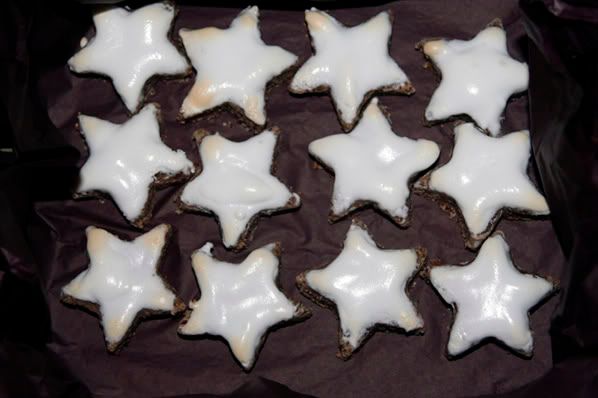 My grandmother who was from Basel always made a variety of cookies and stored them in the dark cellar for freshness. They where there protected from the heat and the light but certainly not from our hungry children mouths! Then again, that is what cookies are here for. To be eaten.

So whenever she sent one of us down there to make a cookie plate, it was an adventure! Nicely stacked and packed into different tins covered with silk paper. Tons and tons of cookies! There were Mailänderli, Brunzli, Zimtsterne, Anisbrötli, Spitzbuebe and many more Swiss traditional cookies. Did we know that we were privileged to taste them all? No.

Nowadays with my grandmother gone, I can always call on my mother who continues the traditions of baking and knows most of those recipes by heart. I guess my favorite would be the Zimtsterne cookie - a cinnamon star cookie - it's something out of this world - You've got to try it!



Here are the ingredients you need to make 40-50 biscuits:
3 Egg whites
A pinch of salt
300g Powder sugar (0.7lb)
1 1/2 - 1 3/4 Tbs Cinnamon powder
1 - 1 1/2 Tbs Kirsch
350g Finely ground almonds (0.8lb)
3/4 Tbs Lemon zest
A bit of plain flour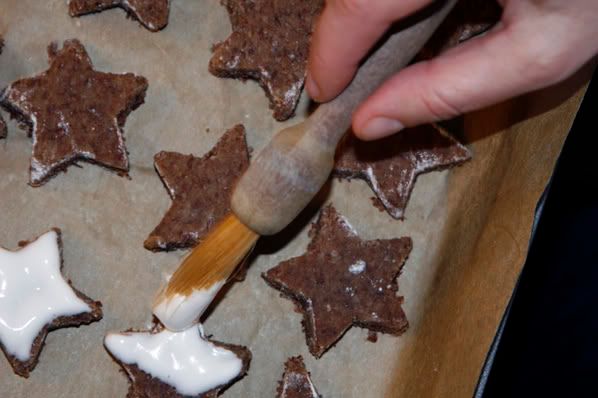 1. In a bowl, whisk the egg whites with the salt until stiff and standing up in well-defined peaks.
2. Sieve the sugar and progressively incorporate it in the egg whites while continuously beating.
3. Set aside 1/2 cup of this mixture for the icing (at the end).
4. Add the cinnamon and kirsch to the leftover egg mixture.
5. Delicately incorporate the almonds and lemon zest to the mixture and "knead" very lightly.
6. Roll the pastry (1/3inch thickness) on a floured surface.
7. Cut out stars using a cookie cutter.
8. Place the cut out shapes on a baking tray lined with baking paper.
9. Brush with the leftover 1/2 cup icing mixture (see point 3) and refrigerate.
10. Cook in a preheated oven 250°C (500°F) for 3-5 minutes.
11. Detach delicately with a spatula.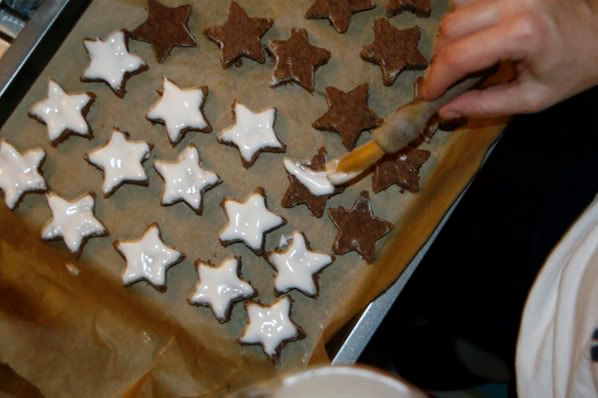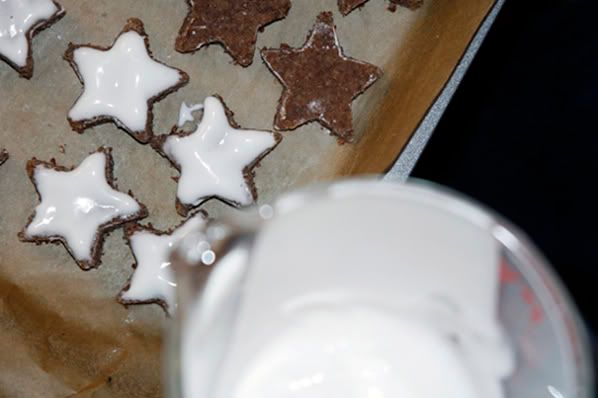 I enjoy them at any time of the day (pretty healthy snack besides all the sugar) alone or with a hot chocolate, coffee or tea!