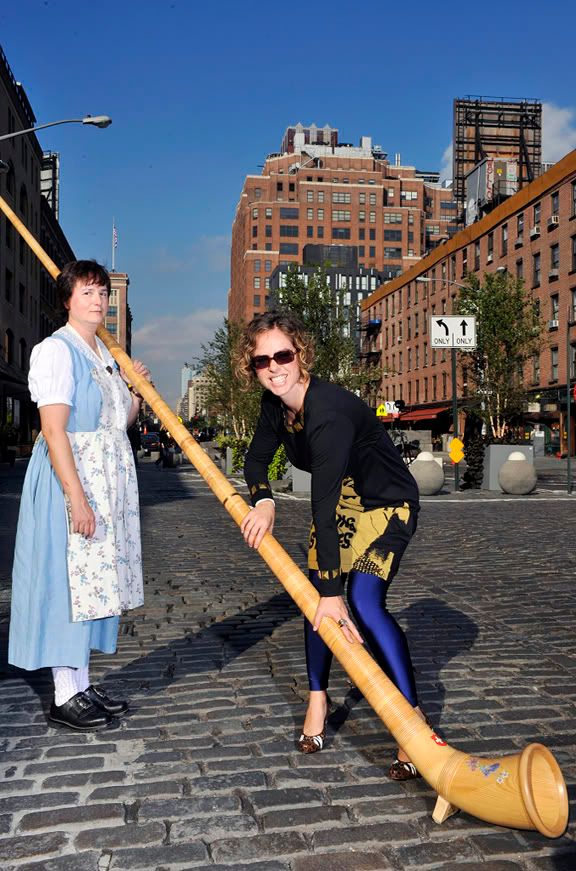 ...martina struck pictured with
her alphorn and
idilvice in the meat packing district on a recent photo shoot for schweizer illustrierte (switzerland's people magazine)...
Correct. Martina and I, we're both
Swiss
misses. We found each other here, far away from our homeland, by chance and due to the fine ear and thanks to the good old American forwardness of my hubby
Carl
, who instantly recognized Martina's Swiss accent - unmistakably standing out - and said "
Grüezi
!"
So we learned that Martina is not only Swiss, she even owns an
Alphorn
and knows how to play it. Well, that's an understatement! Being the president of the
International Alphorn Society
, which mission it is to enrich lives by providing opportunities to develop and encourage a greater appreciation of the Alphorn though instructions and performance, Martina Struck, together with her production staff, arranged a
booklet
containing sheet music of the most beautiful melodies of the season for the quartet with some duet opportunities. This collection of European/American Christmas/Chanukah songs is believed to be the first of its kind.
So there you go - Swiss miss or not - check out how holidays blend with Alphorns in this repertoire, or
download
some Alphorn tunes.
...alphorns rock! martina with alphorn dressed in a traditional zürich uniform (zürcher tracht) and idilvice in a rolling stones dress from the fashion rocks collection...