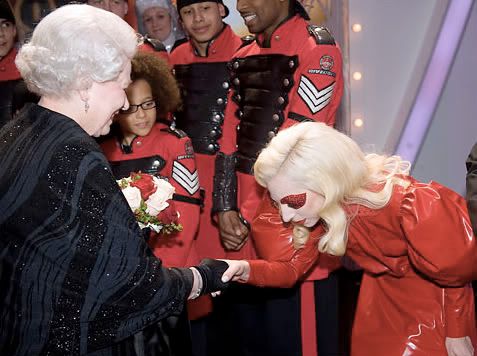 Readers of a recent article with the title "Rock Royalty Meets Authentic Royalty" were appalled by the fact that the New York Times readily included Lady Gaga in the exclusive league of rock royalty. In a comment the question was asked 'Which one of them is Lady Gaga?", which I thought was hilarious. Indeed, hard to tell. Both, the authentic royalty Queen Elisabeth II of England and the - O.K. - "not-just-yet-rock-royalty" Miss Germanotta from New York, widely know as Lady Gaga, seem to have applied the exact same shade of foundation and they both sport their hair white, straight and puffed up on the top and curly at the ends... also both favor a little glitter in their lives... even the red shade of their lipstick is a match!

So, can Lady Gaga be called rock royalty or not? Maybe today's rock stars have but 15 minutes of fame, so they have to become rock royalty faster?!

Lady Gaga was among the artists who were invited to entertain the queen at the Royal Variety Performance and she attended the event at Blackpool's Opera House wearing a red PVC outfit and played her song "Speechless" on a piano supported by stilts.

If Lady Gaga is not rock royalty yet, then she sure is familiar with rock royalty's history, because she began her performance by telling the crowd: "Good evening Blackpool. Let me hear you rattle your jewelry." A line originally invented by John Lennon.


Build your own opinion: Read my post
Lady Gaga Raw
.